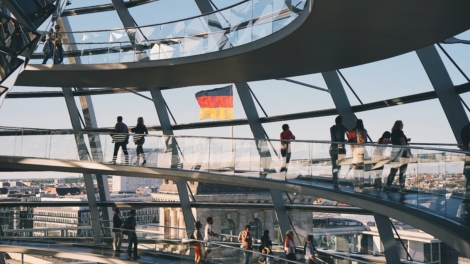 LCA German Desk is the focus team specialized in advising Italian clients with interests in German-speaking countries (Germany, Austria, Switzerland) and clients from the same countries with commercial interests in Italy.
The team consists of bilingual lawyers, each of whom has many years of study and work experience in German-speaking countries and a market-specific know-how in all relevant areas of trade between Italy and German-speaking countries. The expertise ranges from the most traditional business sectors (automotive, life science, chemical-pharmaceutical, wholesale, real estate, food & wine, energy, transportation, fashion, Made in Italy, Made in Germany, etc.) to the most innovative industries (4.0, new technologies and start-up incubators).
LCA German Desk advises large, medium and small size companies, financial institutions, investment funds and entrepreneurs in all areas of practice. LCA's professionals have extensive experience in assisting clients in the fields of commercial and corporate law, both within extraordinary transactions (mergers & acquisitions, joint ventures, investment and sale transactions, etc.) and in general and contractual matters. LCA German Desk's services also include litigation proceedings as well as national and foreign arbitration proceedings, with a particular focus on complex corporate and commercial matters.
Private clients receive a tailor-made advice also in the areas of civil law (agreements of all kinds, inheritance matters, business generational transition processes, protection and administration of assets, art collections, etc.) and tax planning.
LCA German Desk works closely with all LCA's departments and offices as well as with a selected network of leading law firms located in all major cities in Germany, Austria and Switzerland.
——————————————————————————————————————-
LCA German Desk ist das Fokus-Team, welches sich auf die Beratung italienischer Mandanten mit Interessen im deutschsprachigen Raum (Deutschland, Österreich, Schweiz) und Mandanten aus diesen Ländern mit Interessen in Italien spezialisiert hat.
Das Team besteht aus zweisprachigen Rechtsanwältinnen und Rechtsanwälten, von welchen jeder langjährige Studien- und Arbeitserfahrungen im deutschsprachigen Ausland gesammelt hat. Die Experten des LCA German Desk verfügen über marktspezifisches Know-how in allen relevanten Bereichen des Wirtschaftsverkehrs zwischen Italien und dem deutschsprachigen Raum: unsere Expertise reicht von den traditionellsten Segmenten (Automobil, Life Science, Chemie-Pharmazie, Großhandel, Immobilien, Lebensmittel & Wein, Energie, Transport, Mode, Made in Italy, Made in Germany, etc.) bis hin zu den innovativsten (Industrie 4.0, neue Technologien und Startup-Inkubator).
LCA German Desk begleitet und berät Unternehmen (große, mittlere ebenso wie kleine), Finanzinstitute, Investmentfonds und Unternehmer in allen Beratungsschwerpunkten der Kanzlei. Alle Rechtsanwältinnen und Rechtsanwälte des LCA German Desk haben umfangreiche Erfahrung in der Beratung von Mandanten auf dem Gebiet des Handels- und Gesellschaftsrechts, sowohl bei außerordentlichen Transaktionen (Mergers & Acquisitions, Joint Ventures, Investitions- und Veräußerungsgeschäfte usw.) als auch im Zusammenhang mit Themen allgemeiner Natur. Zu den Leistungen des LCA German Desk gehört auch die Prozessführung vor staatlichen Gerichten sowie nationalen und ausländischen Schiedsgerichten, mit einem besonderen Fokus auf komplexe gesellschafts- und handelsrechtliche Rechtsstreitigkeiten.
Privatmandanten werden in den Bereichen des Zivilrechts (Verhandlung und Abschluss von Verträgen jeglicher Art, Erbrecht, Unternehmensnachfolgeplanung, Schutz und Verwaltung von Vermögen, Kunstsammlungen usw.) und der Steuerplanung maßgeschneidert beraten.
LCA German Desk arbeitet eng mit allen Praxisgruppen und Standorten von LCA sowie mit einem ausgewählten Netzwerk führender Anwaltskanzleien in den wichtigsten Städten Deutschlands, Österreichs und der Schweiz zusammen.
LIES UNSERE ALERT:
Das neue Gesetzbuch der Unternehmenskrise und seine Aus-wirkungen auf die Unternehmenstätigkeit der s.r.l.